This lesson presented some amazing examples of how students have used the power of connections to make a real difference in the world. I have been a fan of Sylvia's Mini Maker Show since last year when I had my kindergarten students make squishy circuits. We used this episode to help introduce and understand the activity: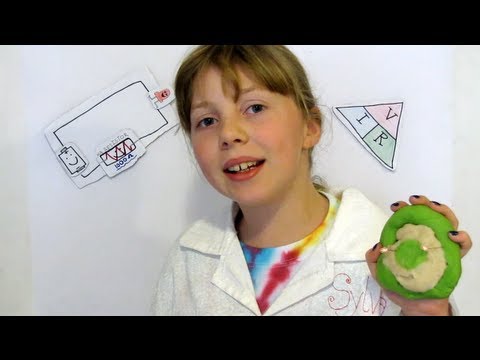 Having a young person explain a concept to another young person is a really effective way for kids to learn. My students were really captivated by the level at which Sylvia explained the circuits they would be making. They were also inspired to try more complicated and difficult challenges because someone who was only a few years old was showing them how. Inspiration is a huge byproduct of global connections.
Global connections allow kids to expand their horizons. It gives them access to ideas and experts from all corners of the planet. It also allows them to share that information with other kids in a way that is likely more entertaining and of greater interest to people their own age. Last year my son's class was studying weather. His teacher encouraged him to look beyond the resources of the school to find out about weather. He suggested interviewing an expert on the subject so he contacted a family friend that does volunteer weather research for Environment Canada. He conducted a Skype Interview and we made a youTube video for the project.
Our school is having a Tutorial Challenge for our Grade 5 students led by our Tech Integrationist and fellow COETAIL Cohort member Sean Walmsley. They have a variety of apps to choose from to create a tutorial that teaches a math concept. The project aims to have students thinking about Math concepts at a higher level. Using youTube in this way not only allows students to go beyond Blooms early stages of remembering, understanding and applying to the higher levels – creating, analyzing and evaluating. It also allows them to create resources that can be used on a global scale. Just like Sylvia made an impact on my class others can reap the benefits of the understanding and learning that has taken place at our school. This is a great way to introduce our students to the power of their ideas on a global level. What they created can be shared and view by students across the planet to help them learn the concept as well. 
In my quest to find more examples of great things kids were doing on a global scale I came across Google Science Fair. This is the introduction video from the website:
How is this better than the local science fair hosted in school gyms around the planet? Google Science Fair is global. Google Science Fair brings the best ideas together in a demonstration of how amazing our young people really are and raises the level of how great they can be. The prizes are incredible. The first place winner gets a $50000 scholarship and the other prizes are too lengthy to list. Just as Martha Payne caught the attention of Jamie Oliver by documenting her school lunches, winners of Google Science Fair are sure to catch the attention of the movers and shakers of the science and technology world. Notoriety and money are not the only good reasons to be involved in this competition. Viewing past winners shows students who are actively seeking out solutions to real world problems that will affect their generation and generations to follow. One such example is Haley Todesco, a Calgary, Alberta teen that entered with a project aimed at cleaning up the toxic output of extraction of oil from the Alberta oilsands.
Or this group that was searching for ways to use natural bacteria to combat world hunger.
These are just two examples of how global connections can empower young people to make an incredible positive impact on our world. As teachers we need to always look for as many ways as possible to give our kids the chance to be exposed to the ideas and the means by which they can share their ideas on a global scale.